Crowns
Natural-looking, durable Dental Crowns
A dental crown is a tooth-shaped cap that's placed over a tooth to improve its appearance and restore its shape, size and strength. Although crowns fix similar dental conditions as porcelain veneers, they have the added benefit of improving your bite.
Creating and placing your new Crown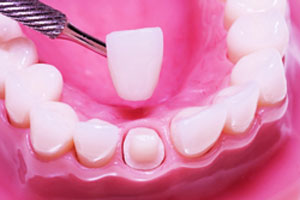 Dr. Charles Flowers uses high quality metal-free porcelain, zirconia or composite (metal and porcelain) to create beautiful, long-lasting crowns. He also uses a top-quality local lab that he has been relying on for many years for the best aesthetic and color-matching results.
Conditions requiring Crowns
Extensive tooth decay
Broken or cracked teeth
A misaligned or misshaped tooth
A tooth that has had root canal therapy
Large metal or tooth-colored fillings, that weaken the remaining tooth
Teeth with large fillings that are breaking down and cannot be refilled
Replace your old Crowns
Dr. Flowers can repair your old crowns. He will conduct a full exam and evaluate what should be removed and replaced to optimize aesthetics and your oral health.
To make an appointment, call 803.787.6646 or click here to request an appointment online.