Meet the Doctor
A friendly, caring dentist who really listens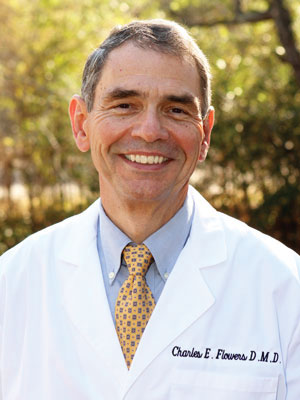 Dr. Charles Flowers is dedicated to offering area residents the finest possible care that he and 21st century dentistry can provide.
Dr. Flowers has been providing comprehensive general, implant and cosmetic dental services to Charleston area residents for well over three decades. He delivers his special brand of dentistry with a kind smile, a gentle touch and a compassionate heart.
Dr. Flowers comes from a long line of North Carolina doctors. His father was a physician, his grandfather was a real country doctor, and his great-grandfather was a black bag carrying country doctor, as well. Following in their footsteps, Dr. Flowers created his practice with his family's tradition of personalized patient care in mind.
Education & Training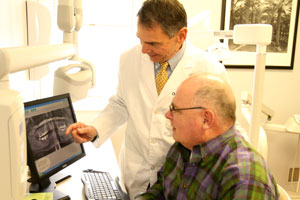 Dr. Flowers believes that a dentist's education never truly ends. In 1976 he received his Doctor of Dental Medicine degree from the Medical University of South Carolina.
Dr. Flowers has also completed hundreds of continuing education courses to enhance his overall knowledge of general dentistry and to keep abreast of the latest developments in his field.
Dr. Flowers is an active member in good standing of the American Dental Association and the South Carolina Dental Association, as well as other professional groups and clubs.
Areas of focus
Over the decades Dr. Flowers has developed a special interest in oral surgery, endodontics (root canal treatment) and dental implant dentistry. He has attended numerous courses on these select topics and over the last 30 years he has performed thousands of preventative, restorative and cosmetic dentistry procedures.
Outside the Office
When he isn't busy transforming smiles, Dr. Flowers enjoys flying airplanes, hunting, fishing and sporting clays. However, his most enjoyable free time is spent with his two granddaughters who keep him quite busy.
Committed to our troops
Dr. Flowers, a graduate from The Citadel and member of the Army ROTC, has great respect and admiration for the men and women serving in our Armed Forces. For over three decades he has been making smile-enhancing dentistry more convenient for our patriots stationed at Fort Jackson.
To make an appointment, call 803.787.6646 or click here to request an appointment online.